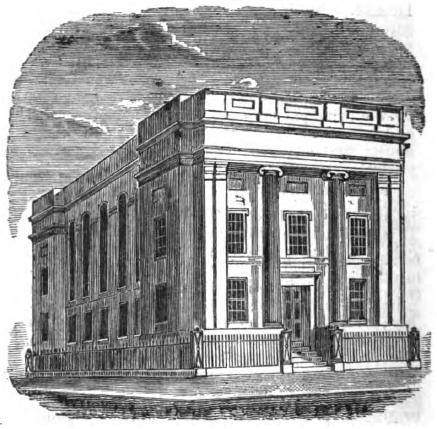 The Victoria Hall, Belfast
It has been a few years since I have looked at this chapter of Thomas Dudgeon's story. I've added a few more details as more information becomes available and I've made a few improvements.
If you are reading this and have any further details to add I would love to hear from you.You can email me in the box on the side of the blog, or leave a comment at the bottom of this post. Click on the electronic title link at the top of the post, scroll down and you will find the Comments section at the bottom. I hope to hear from you.
The Great Diorama of Ireland and Ireland: its scenery, music, and antiquities, 1865
If you would like to read an abstract of this post (no. 12) before committing to reading the whole chapter, click

here

.




It's 1865 in Belfast, Ireland, and the moving picture scenes called Dioramas have become the fashionable entertainment to headline in theatres and music halls. Thomas Dudgeon was one of the team of artists commissioned to create dioramas for the 1865 Christmas theatre season in Ireland and travelled there to re-paint the

Great Diorama of Ireland

, later renamed

Ireland: its scenery, music, and antiquities

for the new show. The show opened at the Victoria Hall, Belfast, previously called the Victoria Music Hall, on Monday evening, November 13, 1865. Thomas was given full credit on the advertising as the eminent artist who entirely re-painted

The Great Diorama

.

The diorama provided a magnificent moving display of Irish scenery as a backdrop to the performances of Mr. and Mrs. J. F. O'Neill, who performed "inimitable Hibernian sketches", and to various other

artists

who sang songs, duets, and quartets etc.

(Belfast Newsletter, Nov. 9, 1865.) Historical and descriptive handbooks were handed out in the hall. To celebrate this debut event, there were even fashionable mid-day performances on Fridays at 2.30 pm at the cost of 2s. for Reserved Seats, 1s. for the Body of the Hall, and 6d. for the Gallery.

Dioramas had been around for sometime before 1865, but no-one had embarked on a diorama depicting Ireland and its spectacular scenery like Dr. Thomas Charles Stuart Corry. A born showman and well-known medical identity in Belfast, he took on this challenge and initially hired Mr. T. H. Connop to produce his first diorama entitled

Ireland: its scenery, music and antiquities

.

Mr. Connop had spent some years travelling throughout Ireland, selecting and sketching appropriate scenes worthy of painting. Then in 1864, after 12 months work of painting the diorama onto canvas, he had a private rehearsal in the Victoria Hall, Belfast on Saturday, 24th December. The "New Diorama of Ireland" show opened to the public at Victoria Hall, on the following Monday, 26th December 1864, at 8pm. (Belfast Newsletter, 26th December, 1864.)

"Dr. Corry's Diorama" or moving pictures consisted of reams and reams of canvas painted with scenes familiar to Irishmen everywhere - The Giant's Causeway, Shane's Castle, Carrick-a-rede, Dunluce Castle, Galway City, Limerick City, Drogheda, Armagh, Tara, Dublin City, Belfast, ..., the Lakes of Killarney, the Gap of Dunloe, Glengariff and many others.(Woodside, 1997-2008).

The diorama painted on canvas, was attached to huge rollers situated on each side of the proscenium or stage, and out of view of the audience. As it unrolled, it moved across the stage revealing the painted pictures of Ireland. A musical show on stage was choreographed to accompany each individual scene as it unfurled. Dr. Corry wrote one song in particular which was very popular with the audience, named "Who'll Buy a Box of Specimens" which was sung by Nellie Hayes as the picture of the Giant's Causeway was being shown. (Woodside, 1997-2008). In 1879, Dr. Corry published a volume of "Irish lyrics, Songs, and Poems", which was printed in Belfast by D. and J. Allen. He was such a talented fellow.

Following the success of the "New Diorama of Ireland" in 1864, for which he became well known, Mr. Connop retired from producing further dioramas, and was honoured at a benefit at the Victoria Hall, on 15th February, 1865. (Belfast newsletter, 15th Feb. 1865.) He died six years later on the 9th August, 1870 in Belfast. Perhaps he was starting to suffer from ill health at the time of the benefit.

Due to the wear and tear on the diorama and Mr. Connop leaving the Victoria Hall Thomas did a complete repaint of the scenes during 1865 in readiness for the new show opening on the 9th November, 1865. It is hard to imagine that Thomas could have repainted every single scene attributed to this diorama, because of its enormity. However, he may have needed to as the painted scenes could only last for one season due to the rolling and unrolling of the painted canvas across the stage. Artists in those days were masters at copying other works of art and creating paintings from sketches so it is feasible that he recreated the paintings from Mr. Connop's originals. Or did he just touch them up? Perhaps Thomas was recommended to Dr. Corry by Mr. Connop to refurbish, and touch up his original diorama. It is most likely that he was one of the original artists hired by Dr. Corry along with other artists and Mr. Connop had overall charge of the scenery painted. Dr Corry no doubt had the final say as to which scenes made it into the final diorama.

1866. Dr. Corry's Travel Guidebook based on the Great Diorama of Ireland
Ireland: its scenery, music, and antiquities. (Third edition.) [With plates, including a map.] Thomas Charles Stewart Corry. ISBN 10: 1241338531 / ISBN 13: 9781241338534. Publisher: London: British Library, Historical Print Editions, 2011. Originally published in 1866.
A common occurrence with dioramas at this time was that the paintings were published in illustrated tourist guidebooks. In 1866, Dr. Corry produced a small travel book of 26 pages called Ireland: Its Scenery, Music, and Antiquities, produced from either Mr. Connop's original paintings or from Thomas Dudgeon's paintings, I'm not sure. Of course I would like to think this little book includes some of Thomas's paintings. It was originally published in 1866, and has now been reprinted as a 3rd edition in 2011, by the Historical Print Editions Section of the British Library in London and is still in print. Publishing details are below if dear reader you would like to purchase a copy.
On Christmas Day, 1866, there was an interesting testimonial in The Era newspaper where Dr. Corry paid tribute to the Musical Director of the Diorama, Daniel Holmes, Esq.
Testimonial.-9, Clarendon Place, Belfast, Christmas Day, 1866. Dear Sir, I beg to forward you a Gold and Bog-Oak Medal, of Irish manufacture, as a slight token of the high estimation in which you have invariably been held by me as a Pianist and Composer, and also as a gentleman, since you first became Musical Director to the National entertainment, "Ireland: Its Scenery, Music, and Antiquities." Trusting you may be long spared to wear it. I am, dear Sir, yours sincerely,
DANIEL HOLMES, Esq. THOS. CHAS. S. CORRY, M.D.
(The Era, January 6, 1867.)
Now that his Diorama of Ireland is featuring in the show, Ireland: its scenery, music, and antiquities, besides painting the occasional new Irish scene for the Diorama, Thomas could be more flexible with his time. It seems that he spent Christmas 1866 in Glasgow, and then was busily painting the scenery for a charity show at the Queen's Rooms, in aid of the Convalescent Fever Home and a Sick Children's Hospital. The show was billed as the Grand Fashionable Amateur Dramatic Performance, by the Members of Harcourt Beauty (Bland's) Dramatic Class. The Play was Sheridan Knowles' The Hunchback, followed by the Laughable Farce of Betsy Baker. I love the note at the foot of the playbill. "
Carriages ordered at eleven." (
Glasgow Herald, Jan. 25th, 1867.)
On the 7th May, 1867, an advertisement in the Glasgow Herald announced that the new show at the Circus, Hope Street, Glasgow (Scotland) was IRELAND: ITS SCENERY, MUSIC, AND ANTIQUITIES. The Diorama and the cast have travelled to Glasgow for a limited season only. Dr. Corry is still the originator and sole-proprietor and the Manager is Mr. D. Holmes. (Glasgow Herald, May 7, 1867.) The following Advertisement confirms that the Diorama and the show have gone on tour, and are destined for America:-
1867
PARTNER WANTED.-THE PROPRIETOR of the National Entertainment "Ireland: It's Scenery, Music, and Antiquities" , being unable to leave this country in consequence of other avocations, is desirous to meet with a suitable party who would accompany the Exhibition to America. For terms and further particulars, address "Diorama, care of Mr. D. ALLEN, Arthur Square, Belfast." 5213. (Belfast Newsletter, June 7, 1867)
It's October, 1867, and after travelling throughout England, Dr. Corry's Diorama show,
Ireland: It's Scenery, Music and Antiquities
is in Leicester, England, at the Temperance Hall, finishing it's season on Saturday, October 19th. The playbill quoted that the colossal paintings, executed in the highest style of art, were painted from sketches recently taken on the spot in Leicester, expressly for this exhibition, by Dudgeon, Phillips, Knell, and Connop. The wording in the playbill, implies that the paintings in the Diorama were a collection by various artists, expressly for this exhibition. It is fair to presume that the four artists had all been involved at various times with the Diorama from its inception. Of course each new audience needed to feel that it was a new show just for them, and sometimes a painting of the city where the Diorama was showing was unveiled before each show. So, the advertising machine of the day in depicting the paintings as being recently taken from sketches on the spot, was partly correct in that the majority of the paintings were the originals with a few new ones exhibited for the enjoyment of local audiences. (Leicester Chronicle, October 19, 1867)
The last work that Thomas did in Scotland in 1867 was the painting of the theatre scenery for the Christmas pantomime, called "Harlequin Graceful, or the Fair One with the Golden Locks, or the Great Giant Gorgibuster, and the Monarchs of the Fairy Fishes", produced by Mr. Alfred Davis, the sole lessee and manager of the Prince of Wales' Theatre. The playbill for the show acclaimed the triumphant success of the pantomime, brilliant scenery, rapturous applause, and the first grand illuminated performance of the pantomime to be on Saturday, Dec. 21st. (Glasgow Herald, Thurs. Dec. 19, 1867.)
Thomas Dudgeon and Agnes Pollock returned to Belfast in late 1867. Agnes was pregnant with her second child. By February 6th, 1868,
Ireland: It's Scenery, Music, and Antiquities
, still billed as the Great National Entertainment, Ireland, had already been showing at the Victoria Hall for 6 weeks.
"The view is said to be most accurate, and to give the beholder a vivid representation of the leading thoroughfare of the town. The warehouses on either side, with all their architectural embellishments, can be plainly discerned. The display of goods in some of the windows is also clearly shown, and some sign-boards over doors can be read without difficulty.
(Belfast Morning News, February 3rd, 1868.)
In readiness for the seventh week of
Ireland: It's Scenery, Music, and Antiquities
, and to continue to attract the local audiences of Belfast, Thomas Dudgeon, Esq. (according to the newspaper advertisements) and his assistants had been hard at work painting a new scene of Belfast for the local audiences. This additional attraction of a new Belfast painting for the show, was a view of Donegall Place, Belfast, taken from Castle Place. There was also to be a complete change to the musical programme advertised as commencing in the Seventh week of Triumphant Success. (Belfast Newsletter, Feb. 6, 1868.) A new painting by Thomas, a new musical programme with no expense spared by Dr. Corry, and re-engagement of Master B. O'Lynn, and the Diorama Show has a rebirth for the commencement of the seventh week.
1868
There has also been another birth. On 3rd February, 1868, beautiful little Ellen Stella Douglas Faucets Dudgeon, my Great Grandmother, and an Aquarian as am I, was born to proud parents, Agnes Pollock "Dudgeon", and Thomas Dudgeon, in Belfast. The Dudgeon family, including little Ellen Stella, Agnes and Thomas and Annie McIndoe Plunkett, are still in Belfast in 1870 as a court case involving Agnes as a witness is being heard. The 1871 Scottish census records that Thomas is in Bishop Auckland and Agnes, Annie, Ellen Stella and Thomas's son, Thomas Dudgeon, from a previous relationship, are back in Glasgow.
Dr. Corry is still intent on taking his Great Irish Diorama to America. Thomas was dispatched to Dublin, to make a sketch of the the O'Connell Monument in Glasnevin Cemetery, to be painted and included in the Diorama for it's improvement and attractiveness for the American audiences, and the Irish Catholics who had emigrated there. Glasnevin Cemetery, first opened in 1832, is officially known as Prospect Cemetery, and is the largest non-denominational cemetery in Ireland. Daniel O'Connell was a champion of Catholic rights, and the establishment of the Glasnevin Cemetery was largely due to O'Connell campaigning for a graveyard where both Irish Protestants and Catholics could be buried with dignity.
Glasnevin cemetery, Dublin, Ireland. The round tower in the centre stands over the tomb of Daniel O'Connell.
This is the monument that Thomas was sent to sketch.
However, when Thomas arrived at the cemetery, he discovered to his dismay that the project wasn't approved by the cemetery authorities, as Dr. Corry hadn't met the appropriate protocols of applying to the Cemeteries Board in advance for permission. Corry wasn't impressed, and wrote a letter to the Editor of the Nation Newspaper, in protest. (Nation, May 22, 1869). Wealth, influence and perseverance are a successful combination, and by October, 1870, Dr. Corry's Diorama of Ireland , is showing at the Brooklyn Atheneum, New York, USA. The Brooklyn Daily Eagle newspaper reported that thousands were flocking nightly to the Brooklyn Atheneum, to see the Green Isle once more. (October 17, 1870). By February, 1871, the Diorama of Ireland as a backdrop to
Ireland: It's Scenery, Music, and Antiquities
is showing at the Apollo Hall, New York.
The following excerpt from W.G. Lyttle's Biography confirms that the Great Diorama, did actually tour America. Wesley Greenhill Lyttle, a newspaper editor, accountant, but most of all an entertainer, was a lecturer with Dr. Corry's
Irish Diorama
company, which toured Britain and America with the show entitled
"Ireland, its scenery, music and antiquities"
.
Lyttle had been a lecturer in Dr. Corry's Irish Diorama company which toured Britain and America with a show entitled "Ireland, its scenery, music and antiquities". The show featured large limelight views of of Irish beauty spots, illustrated in prose, verse and song. For most of the 1870s, Lyttle lived in Belfast where he began to write and perform his humorous monologues". (
Robinson, Kenneth, 2008. W.G. Lyttle [Biography] in The Ulster-Scots Language Society.)
Ireland in Shade and Sunshine: a second diorama, 1869
In December 1869, whilst the Great Diorama with Ireland: it's scenery, music and antiquities was touring England extensively, and still riding on a wave of popularity, Dr. Corry had embarked on a new project, a 2nd Diorama of Ireland, called
Ireland: in Shade and Sunshine
. He wasn't afraid of hard work, was he?
The Belfast Newsletter, Issue 54553, during November 1869 wrote:
"Belfast is becoming somewhat celebrated for its production of dioramas. Thomas Dudgeon, Esq. the able artist, who is at present engaged in the production of an entirely new diorama of Irish scenery for Dr. Corry, so deserving of encouragement for his laudable efforts in bringing before the public the classic and picturesque scenes of Ireland's history."
"The diorama [of Ireland] is nearly completed and will be ready for exhibition in the Victoria Hall next month. It will be illuminated with magnesium light, and all the recent improvements and appliances in dioramic effects will be brought into requisition to stamp the second Diorama of Ireland one of the most beautiful and life-like ever presented to public criticism."
Illumination by magnesium light was relatively new to create special effects, and a big crowd pleaser at the time. Thomas had obviously impressed Dr. Corry with the high standard of his paintings used in the first Great Diorama, as he employed Thomas to paint 40 new scenes for Ireland: in Shade and Sunshine. Following a private gala function for invited guests only, to launch the new Diorama, The Belfast Newsletter published a flattering review of Thomas's depiction of Irish scenes through his art.
"On Saturday evening the new series of paintings, by T. Dudgeon, Esq., intended to illustrate Ireland in shade and sunshine, were unfolded for the first time before a select audience, who, through the kindness of Dr. Corry, were favoured with private invitations. The scenery of Ireland must at all times be interesting."
(Belfast Newsletter, Dec. 13th, 1869.)
At this point in time, as his descendant, I feel so proud of what Thomas Dudgeon has achieved. The Belfast Newsletter appeared to take great care to give an honest interpretation and account of the openings of new shows, artworks and the artists themselves. The art critic was very careful not to compare which of the two dioramas was superior in it's quality, however praised Thomas's work at the private launch of Ireland in Shade and Sunshine, as reflecting
"the utmost credit on the artistic skill of Mr. Dudgeon, as well as of the enterprise of the spirited proprietor."
I wonder if Thomas rushed to read the reviews of his work in the newspapers in the morning, and if he did the amount of space granted in the December 13th edition of the Belfast Newsletter, to quite generously review his work should have pleased him immensely. I hope he had a huge smile over his visage for the whole day. The review took care to name most of the locations of the Irish scene paintings scrolling across the stage in Dioramic procession, and there are too many of them to include all of the locations featured here. The following are a few of my favourite excerpts from the review which demonstrate the fine calibre of Thomas's work:
"The Diorama opens with a magnificent view of Dublin, exhibiting in one view College Green, Trinity College, the Bank of Ireland, the statues of Goldsmith and Burke, Carlisle Bridge, and Sackville Street. the onlooker then gets a view of the interior of the House of Lords on the last night of the Irish Parliament. where...he will see tapestries representing the Battle of the Boyne and Relief of Derry, and portraits of Lord Castlereagh and other members of the House."
"The Lakes of Killarney are then made to pass in review in all their beauty and sublimity. In one of these views there is very skilfully introduced a vision of The O'Donohue and his fairy horseman (a popular tradition of the district), which produces an effect of a startling character."
"The second part of the Diorama opens with views of Valentia Bay and Island, Limerick, Connemara, Galway, Devenish Island, the famous Lough Derg, and St. Patrick's Purgatory, the ruins of Donegal Castle, the Maiden City (with a fine view of the bridge), Dunlace Castle, when the visitor is presented with a magnificent sketch of the Giant's Causeway."
The reviewer mentions where the Giant's Causeway is painted by sunset, and a rather curious optical illusion is produced for the spectator.
Following these flattering reviews of the private launch, the new Diorama opened to the public at the Victoria Hall the following evening. Despite the dreadful Irish weather, a crowded audience attended the first night and according to the press, showed their appreciation with frequent enthusiastic applause. (Belfast Newsletter, Dec. 14th, 1869.) It was another well choreographed show, accredited to Dr. Corry, including an interesting lecture by Mr. Keith, and Irish vocals by Mr. Barry Aylmer, Miss Marian Isaacs, and Miss Cary Henry (of Belfast), who attracted encores for several of their pieces. Such a successful opening is every entrepreneur's and every artist's dream.
Newspaper clippings from American papers, advertise that the new Diorama, "Ireland in Shade and Sunshine" after a successful season in Ireland, has been shipped to America and is successfully touring Philadelphia, U.S. On the 22nd April, 1871, the New York Clipper newspaper confirms that Dr. Corry's show is still popular, and is touring Philadelphia, U.S.:
Dr. Corry's Diorama of "Ireland in Shade and Sunshine" continues to be well patronised, and the vocal and instrumental concert given forms a very pleasing feature at the Assembly Building, Philadelphia. (New York Clipper, 22nd April, 1871.)
Royal National Diorama of Scotland
Whilst in Ireland, Thomas embarked on his third and most prolific piece of work, the Royal National Diorama of Scotland, presumably from photographs or sketches which he took over with him to Ireland. The Belfast Newsletter in 1869 described how Thomas Dudgeon Esq. had painted the Diorama of Scotland here, and was engaged in the production of an entirely new diorama of Irish scenery for Dr. Corry. An excerpt from Granny's diary confirms that Thomas painted scenes from photographs, and in those days all landscape artists were quite adept in this practice. There will be more about the Royal Diorama of Scotland in a future post.
Granny says:
'Well now I will go back to Chichester. After my father had painted the little picture he was doing he was asked to paint a large picture of Rooks Drift in Africa where the Prince Eugene had been killed. They brought him photos of it all and drawings too, so he undertook it and did it. Rooks Drift was a farm and the Prince Eugene was killed there. The front of the picture showed the farm as it was in all its beauty and the back was where it was set on fire by the Zulus. The flames looked so real. I can't describe it as I would like to but even though I was so young, I knew it was wonderful. In London there was a great deal of praise given to it in the morning papers."
At this point Granny was old enough to be aware of what paintings Thomas was working on. The dioramas, personal paintings and commissions he obtained would have been seen by Ellen Stella and imprinted on her memory. They were probably discussed around the dinner table each evening, and the whole family would have been aware of current projects. Hence she refers to many paintings of Thomas's in her Memoirs, some of which were most likely to be included in his Dioramas. Granny's description through a daughter's eyes of his work and travels together with newspaper reports, provide us with a valuable insight to Thomas's talent and reputation as a hard working and very much admired landscape artist.
Bishop Auckland, 1871
As mentioned above, in the 1871 Scottish Census, Agnes Pollock "Dudgeon", Annie McIndoe Plunkett, and Ellen Stella Dudgeon are living back in Glasgow, at 332 Georges St. However Agnes is recorded as Agnes Plunkett, her assumed name in Scotland following her relationship with James Plunkett, before she met Thomas. Following the success of his Diorama paintings, which are now either en route or have arrived in America for the show "Ireland in Shade and Sunshine", Thomas has moved temporarily to Bishop Auckland, County Durham, England, to work for the Masons. For more on the Bishop Auckland story, visit this
link
. The 1871 Scottish Census also records Thomas's son, Thomas Dudgeon, aged 19, as living with Agnes Plunkett and her two daughters as a boarder, holding the profession of Panoramic Assistant. He was starting to follow in the footsteps of his well known father.
1875, New Zealand and Australia
In 1875, Dr. Corry's vision for touring the great Irish Diorama to America has expanded, as In Shade and Sunshine emerges in New Zealand, rebranded as Baker's Grand Hibernicon and Panorama of Ireland In Shade and Sunshine.
BAKER'S GRAND HIBERNICON AND PANORAMA OF IRELAND In Shade and Sunshine, Painted on 6000 yards of canvas by the first artists of Europe and America. In conjunction with Baker's celebrated combination of IRISH DELINEATORS, VOCALISTS, AND DANCERS, Comprising Mr. Henry Baker, Lecturer and Balladist Mr. W. F. Baker, Popular Tenor Mr. Chas. Verner, [and others]. (Grey River Argus, Vol. XVI, Issue 2122, 28th May 1875, page 3.)
**News Alert: The Great National Diorama of Ireland (in Shade and Sunshine) travels to Australia in 1880
Dr. Corry's
Great National Diorama of Ireland
, or
(Ireland; in Shade and Sunshine,)
then travelled to
Melbourne,Victoria, Australia in 1880, and Brisba
ne,
Queensland, Australia.
The Argus (Melbourne, Vic.) and Courier Mail (Brisbane, Qld.) Newspapers had it advertised. How Ellen Stella would have loved to see some of her wonderful father's work, perhaps touched up or copied by another artist by then, being exhibited on the stage in Queensland. It will be another 2 years before she takes that epic journey to Australia on the Selkirkshire and leaves her whole world as she knew it behind.
**News Alert: 1886 - Lingard's Royal Scottish Diorama, painted by Thomas Dudgeon, is on tour in Australia
Ellen Stella has by now certainly arrived in Queensland and has been living near Rockhampton for four years by 1886. Unfortunately though it seems that Granny never knew about the Great Scottish Diorama travelling to Queensland. She hasn't mentioned in it in her memoirs. More about that later.
St. George's Hall, commencing Saturday, 21st February, (1880) Dr. Corry's Great National Diorama of Ireland, the Diorama consists of 40 Magnificent paintings, illustrating the present and past glories of the Emerald Isle. The following unrivalled artists will appear:- THE MATTIE TAYLOR TROUPE, In their new and original entertainment, Mr. J. TAYLOR, Humorist and Wonderful Banjoist, Mrs. J. TAYLOR, Specialty Artiste, The CHILD WONDER, LITTLE MATTIE [and others].
The Argus (Melbourne, Vic.: 1848-1957), Tuesday 17 February 1880, page 8)
What became of the reams and reams of painted canvas after the touring of the Dioramas had finished? One of the originals was found in the loft of Kelly's Store, Bank Lane, Belfast by Joe Devlin and his mates, when Joe was Manager of the store at age 19, around 1890, only 6 years before Dr. Corry died.
"In our young youth, when our boyhood's friend, Joe Devlin was in charge of Kelly's Store in Bank Lane, we remember climbing with him to the loft above the shop to see and examine the great rolls of painted canvas, the rollers and the blocks and tacklings of all that was left of Dr. Corry's World-Famed Diorama. For many years it lay in the loft above the old store in Bank Lane, but what became of it we do not know."
(Woodside, S.B. 1997-2008)
Kelly's Store, Belfast
Joe Devlin, 13 February 1871-18 January 1934,
At age 19, in 1890, Joe Devlin had a gift for public speaking, and was President of a literary circle, the Sexton Debating Society. The Society was established in 1886 to commemorate the first Irish Nationalist election victory in West Belfast. It was named after Thomas Sexton, the West Belfast MP from 1892-96 who was its patron, and who was an early role model for Joe Devlin. The Society often invited distinguished people to lecture on subjects of Irish interest. They organised concerts, and sang Irish songs, and took themselves rather seriously. This is the kind of circle of young intellectuals that Dr. Corry would have supported and influenced, and the members would have been familiar with his publications and songs. Joe Devlin became a journalist and an influential Nationalist Party MP in the Parliament of Northern Ireland. He also helped to revive the Ancient Order of Hibernians (OAH), later becoming President after working as a journalist on the Freeman's Journal.
Dr. Corry must have had a connection with Kelly's Store and Joe Devlin to have placed his Diorama in the loft of the shop when the show had finished touring. Unfortunately, a new owner of the store probably just threw the paintings out when the store was being remodelled and cleaned out, not realising their significance to the cultural history of Ireland.
.
Bibliography:
Belfast Newsletter, Monday, Dec. 26th, 1864, issue 32970
Belfast Newsletter, 15th Feb., 1865.
Belfast Newsletter, Thursday, Nov. 9, 1865, issue 33305.
Belfast Newsletter, Tuesday, Dec. 20th, 1864, issue 32965.
Woodside, Barry, c.1997-2008. Irish tokens by Davis & Waters http://www.iris-tokens.co.uk/davis%w.htm
The Era, (London, England), Sunday, January 6, 1867. Issue 1476.
Glasgow Herald, Friday, January 25th, 1867, No. 8442.
Glasgow Herald, Monday, May 7, 1867, Issue 8546.
Belfast Newsletter, Friday June 7, 1867, Issue 33854.
Leicester Chronicle, Saturday, October 19, 1867.
Belfast Morning News, Monday, February 3rd, 1868.
Belfast Newsletter, Thursday, February 6, 1868, Issue 34061.
Nation 1842-1897, May 22, 1869, p. 12.
The Brooklyn Daily Eagle, Monday, October 17, 1870, Vol. 30, No. 246.
Belfast Newsletter, Tuesday, November 9th, 1869, issue 54553
Belfast Newsletter, Monday, Dec. 13th, 1869, issue 54582.
Belfast Newsletter, Tuesday, Dec. 14th, 1869, issue 54583.
Glasgow Herald, Thursday Dec. 19th, 1867, Issue 8723.
Robinson, Kenneth, 2008. W.G. Lyttle [Biography] in The Ulster-Scots Language Society, http://www.ulsterscotslanguage.com/en/texts/biography/w-g-lyttle/, Accessed 20th June, 2015
19. Corry, Thomas Charles Stewart. 3rd ed. Ireland: it's Scenery, Music and Antiquities. London: British Library, Historical Print Collections, 2011. Originally published in 1866.